My sneak peek from
yesterday
...
Is my most recent Goodwill acquisition for $6...
It's a sweet little side table that I fell in love with as soon as I saw it. I stupidly forgot to take any before pictures, but you can see it here basically before. I wanted it to tape it off so that a bit of the cherry wood finish showed through. I wish I could've left the finish alone, but it had a few very large battle scars...
I filled most of the scratches with wood putty, and taped off the design of my choice, inspired by this Pinterest photo....
And here we are after several minutes of measuring and taping...
And here's the faithful help...
He's always willing to supervise =) After a few coats of primer...
Here we are after!
Eeee! (<- excited squeal!) I love it so much ~ the shade of mint is so fun!
I've been having fun rearranging little things on top of it...
You can see how the cherry shines through in the details...
Isn't it delightful?? I'm loving it in our living room...
I do need a few more mint accents in the room, but I have got these 2 lovely pots that I'm trying to place...
More deep blues and minty greens. I love it! Now they just need the perfect home.
One more look at the before and after...
So, do you like my little side table? I'm completely in love with it! I like it almost as much as my last wood project, the
chevron lazy susan
. I hope you all are having a happy Wednesday, friends!
Sharing the love with:
Coastal Charm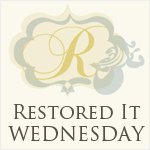 Primitive & Proper